What are the USPS Postal Regulations relating to Wafer Seals?
Most folded-self-mailers need to be closed with three 1½" Wafer Seals. The specific number of mailing seals or tabs required is determined by the weight of the mail piece and other design elements. But in general, self-mailers that weigh up to 3 ounces and are bi-fold or tri-fold will require 3 Wafer Seals. Staples and mailing tabs or seals with perforation aren't permitted.
Wafer Seals must be tight against the edge of the mailing, with a recommended maximum overhang of 1/16". Seals may not interfere with readability in the barcode "clear zone" and must accept water-based ink if the barcode isn't preprinted.
The USPS classifies most church newsletters as booklets. Booklets are defined as having a bound edge. Sheets that are fastened with at least two staples in the manufacturing fold (saddle stitched), perfect bound, pressed-glued, or joined together by another binding method that produces an end where pages are attached together are considered booklets. Booklets are open on three sides before sealing, similar in design to a book. In general, booklets must be uniformly thick. Large bound booklets that are folded for mailing qualify for automation and machinable prices if the final mail piece remains nearly uniform in thickness.
Wafer Seals placed on booklets must be at 1½" in width. Mailing tabs for booklets cannot contain perforations. As indicated in the diagram below, the fold should go along the bottom, with three Wafer Seals securing the mailing.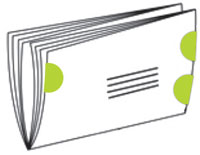 Place two Wafer Seals on the leading (right) edge and one Wafer Seal on the trailing (left) edge. Position upper Wafer Seals 1" from the top edge and the lower Wafer Seal ½" from the bottom edge.
Self-mailers (single folded sheets of 8½" x 11" paper sent without envelopes) should be folded along the bottom, as well. Place one Wafer Seal along the open edge, in the middle.
Visit these websites for more information on mail design and automation of your newsletters that can help you keep your mailing costs low:
USPS Commercial Guide to Using Tabs, Wafer Seals, and Glue Strips
DMM Revision: Booklets: Sealing Letter-Sized Booklets Mailed at Automation Prices